WHAT MACA BENEFITS CAN DO FOR YOU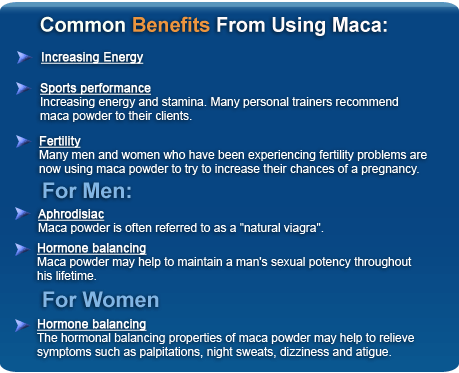 Multiple Maca Benefits
Maca benefits us because is a nutritionally dense super-food that contains high amounts of minerals, vitamins, enzymes and all of the essential amino acids.
Maca is a root from Peru, sometimes called 'Peruvian Ginseng', is a tuber, like a potato, and offers an amazing energy boost for those with low energy.  The root is rich in B-vitamins, the energy vitamins. Maca is a vegetarian source of B-12. To boot, maca has high levels of bioavailable calcium and magnesium.
 Maca Benefits in the bedroom
Maca root helps balance our hormones and due to an abundance of environmental estrogens, women's  hormones can be a bit out of whack. Maca benefits by stimulating and nourishing the hypothalamus and pituitary glands. These glands they can bring balance to the adrenal, thyroid, pancreas, ovarian and testicular glands. Maca is an adaptogen, which means that it responds to different bodies' needs individually. Hormones regulate many things including mood, growth, sexual development.
Maca's also a fertility enhancer and is best known for improving libido and sexual function, especially in men. For this reason, it's earned the nickname "nature's Viagra."
See what my good friend and Best Selling  author John Gray says about Maca benefits.

Maca Benefits as Superfood
Maca a food staple in Peru. Maca has a light, nutty flavor and some easy, with delicious ways to consume maca powder as a food.  Stir a teaspoon of maca in a bowl of vegetable soup; add a teaspoon to any herbal tea. Pour maca powder over organic, non-microwaved popcorn and flavor with coconut oil and sea salt.
It's recommended to start with a 1/2 teaspoon a day, and work up to a teaspoon or two a day over the course of a few weeks. If you're taking it daily, it's best to take a day off each week.   I highly recommend a cellular cleanse prior to beginning your use of maca.  Although perfectly safe, one may feel some 'detox' side affects when first adding maca to your diet. The cellular cleanse will help  eliminate those side affects.
 If you like what you are reading please visit often or subscribe to my RSS feed- don't miss one article! It's my passion to share knowledge about health, nutrition and weight loss.  If you would like to blog about your passion and learn how you can make money doing so, take a look at the opportunity at hand >>>

Sources: http://www.naturalnews.com
http://en.wikipedia.org/wiki/Endocrine_system
http://www.umm.edu/endocrin/pitgland.htm