Rest in Peace, Mayor Ed Koch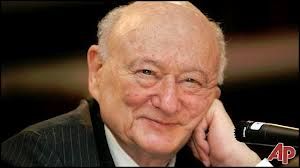 New York City Mayor Ed Koch had Chutzpah
I'm thinking fondly of Ed Koch today.. remembering him at the NYC St. Patty's Day parade every year.
Ed Koch died on February 1, 2013 at New York-Presbyterian/Columbia Hospital . He was 88 years young.  A spokesman said he died that Friday morning of congestive heart failure.
Sometimes said to be combative and 'acid-tongued',  I will always think of  this politician as a man who kept his sense of humor through it all.  He  held a three year term at City Hall and during that time he rescued the city of New York from near-financial ruin.  Ed Koch had enough New York chutzpah for the rest of the planet.  From back when I as a kid and into adulthood, Ed Koch was the Mayor of NY.  He always seemed like 'regular guy', but you did not want to mess with his city!
N.Y.C. Mayor Mike Bloomberg Speaks highly about Ed Koch
As written by Mariam Brillantes of the Wall Street Journal, "Ed Koch was so proud of his already-prepared tombstone at his burial site in Manhattan that he made sure I had a copy of the inscription when I interviewed him on Jan. 18 at his Midtown Manhattan law office, the day before he was hospitalized. The inscription reads, in part: "He was fiercely proud of his Jewish faith. He fiercely defended the City of New York, and he fiercely loved its people." Also inscribed on his tombstone is a quote from Wall Street Journal reporter Daniel Pearl:"My father is Jewish, my mother is Jewish, I am Jewish." (Daniel Pearl, 2002, just before he was beheaded by a Muslim terrorist.)
Ed Koch was really funny, and was always asking, "How  'my doing?"
&
Ed Koch wanted to be buried at a "bustling cemetery."  At his burial site on 155thStreet and Amsterdam Ave you can find a stone bench and a tree. He said he hoped people will visit.  We will Mr. Mayor, we will.